Gunma Prefecture
These pages offer peripheral information about local areas in 47 prefectures.
The information may give you an idea about each area.
Gunma Prefecture!!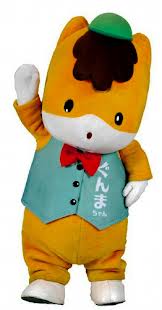 ☆by FKR staff☆
Gunma equals Brazilians
Soccer World Cup and the Olympics are coming up. One in ten residents in Oizumi is said to be Brazilian.



Gunma is at the northwest of the Kanto plain. The landlocked prefecture borders on Fukushima and Niigata to the north, Nagano to the west, Tochigi to the east, and Saitama to the south. One may get to Takasaki from Tokyo in about an hour and for 4,500 yen on a bullet train. It is rich in variety of nature with two thirds of its land hilly. Oze marshland is carefully preserved; from wooden paths one can observe a diversity of plants, attracting many hikers. Mount Asama is active. Farms around it produce cabbages for consumers in the Greater Tokyo area. With hot spa and skiing, there are many vacation spots and vacation houses. Find out more about Gunma from these sites; Lonely Planet, Visit, JETRO, Living, All around, AJET, Japan Guide, Japan National Tourism Organization, Statistics.






━━━━━━━━━━━━━━━━━━━━━━━━━━━━━━━☆☆━━





In August of 2013, an agent in Isesaki told us about the market.

From the spring, both new and pre-owned assets were traded actively; seems to be the same as in other regions of the country; the consumption tax went up from 5% to 8% in April of 2014, so there was an overall buying mood perhaps. Manufacturing sector in Gunma caught some tail wind from the auto industry. The agent recommended properties in Maebashi, Isesaki and Ota. Environment, living conditions like transportation, education, and facilities in these cities surpassed those of others. In addition, prices were low, and the lease demands were strong. The number of investment assets available, however, was limited.





There are some development projects on the way; industrial parks and new bypasses. So not only for second home, Gunma may be a good place to look for properties for investment.